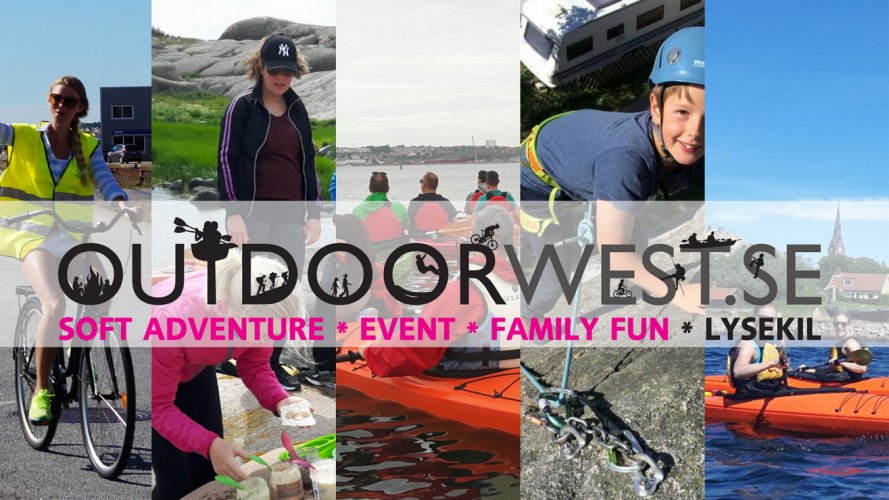 Climb with Outdoor West
Outdoor West organizes comfortable and safe yet challenging experiences at the level you want: Kayaking, biking, hiking and climbing.
We have offer an opportunity to try out sport climbing: 'Introduction to top rope climbing' for kids, adulst and mature youth.
We also have family tours where we combine different climbing techniques with hiking and nature experiences. If you want to replace the top rope and harness, there is another technique in which you climb a low height, called bouldering, only using a crash pad (and shoes and chalk).
Our climbing activities
Top rope season: April-November * Bouldering: Year Round (Groups)
For trips longer than 3 hours, a meal experience is included. Each activity begins with equipment testing. When it's time to get started, participants get a review of the necessary techniques and safety requirements.
Beach dweller - a family adventure
STRANDSITTAREN - Via corda, scrambling and the opportunity to try out top rope climbing. We move laterally along narrow cliffs, about 2 meters above the water level.
Season: April-November Max 2 hours Age 3-73 years (with healthy knees and ankles).
Scrambling +++ - a family adventure
Klätterstig - Tour to the summit, hiking, scrambling and introduction to top rope climbing.
Season: April-November Max 4 hours Age 7-77 years (with healthy knees and ankles).
Hot soup meal served. Departure from: N Hamng. 6
Scrambling +++
Klätterstig - Tour to the summit, hiking, scrambling and introduction to top rope climbing. med fullt friska knän och vrister
Season: April-November Max 4 hours Age 15-65 years (with healthy knees and ankles).
Hot soup meal served. Departure from: N Hamng. 6
TOP ROPE CLIMBING - an introduction
Season: April-November Max 2 hours Age 3-73 years (with healthy knees and ankles).
Plese study your booking confirmation as this activity can start from various locations:
a) Lysekil (gather at our warehose/store at Norra Hamngatan 6)
b) Trellebystrands Camping
c) Fiskebäckskil
RAIN
Depending on the weather, an activity may need to be moved in time or space so that all guests can participate with confidence and feel safe. The crags must be quite dry to get sufficient grip and friction. It is always the guide/leader of each activity that finally determines where and how to climb, or if the activity has to be completely cancelled on the day in question.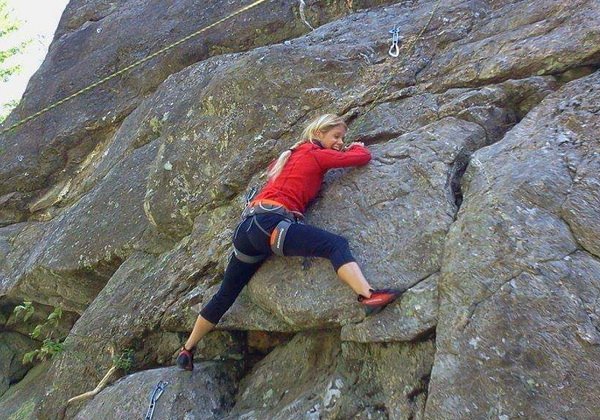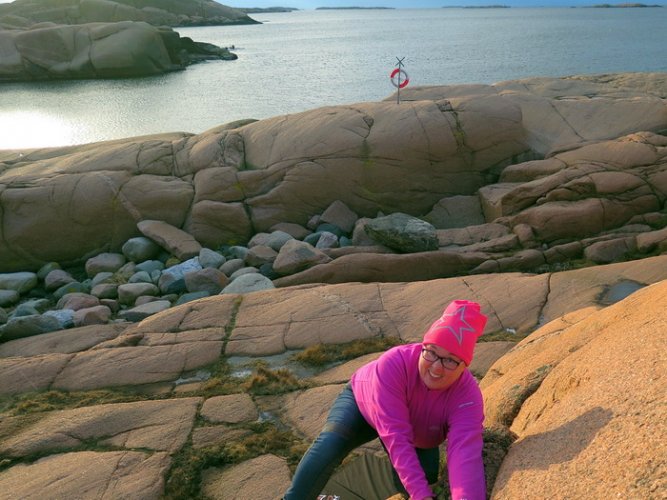 Climbing on your own
Stångenäset peninsula with its many granite crags has long been popular in the climbing coummunity.
Recently, the area around Lysekil has also become known for its range of sports routes for beginners with very high accessability. Within Lysekil's municipality there are more than a thousand routes, belonging to different diciplines, and of all levels of difficulty. (swedish only)
Climbing sometimes takes place in areas with wildlife sensitive to disturbance, and / or in private grounds, or in places that are shared with other practitioners of outdoor recreation. Therefore, it is important to take into account and concider the needs of plants, wildlife and other people. It is important to check the right of public access, climbing community access and to respect any ban on climbing and other acess.

We have topos and climbing equipment for sale. In addition, you can rent from us ropes, crash pads and other things that are heavy or bulky to bring along on your holiday.
PLEASE NOTE:
• No previous experience is required but we assume that you have "normal" health (feeling healthy). If you feel insecure, consult your treating physician to assess if you can exert moderate physical effort. Contact us if you have problems with for example ankles and knees.
• Time indications indicate start and last end time for the participants. Start and end times are partly adapted to Västtrafik bus lines 850 & 841 and ferry line 847. Preferably you arrive 10 minutes before start time so we can do the paperwork and fit your equipment.
• Starting and gathering places vary between our different climbing activities. Booked participants will be notified a few hours before the trip, if there is a deviation from the booking confirmation.
Scrambling +++ (extra everything) Hiking and scrambling in nature typical to Bohuslän takes you to the summit with a spectacular veiw. After a lunch break you will get an introduction to top rope climbing. Please clic the BOOK NOW button for dates and hours LOCATION: 10-15 mns off central Lysekil Season: April-November What to bring: Hiking shoes with hard soles that stays tight on the foot during the scrambling part of the tour. Packpack (water, snack) Requirements: Regular health and fitness, no knee or feet issues. Children/youth 3-15 yrs are welcome June-Aug. What's included: Guide, climbing shoes, helmet, harness, rope etc. Outdoor lunch with beverage. Duration: 4 hours total Price: SEK 900 (adult, or group price) Family prices apply June-Aug Scrambling is "a walk up steep terrain involving the use of one's hands". It is an ambiguous term that lies somewhere between hiking, hillwalking and rock climbing. Please make sure to wear clothes and sturdy shoes suitable for terrain and a short walk among lush vegetation. Equipment for the Top rope climbing part of the activity is provided by the tour operator. Soft adventure This is an activity with a low to medium level of difficulty. We have planned the tour with families in mind. If you suffer from vertigo there is always an optional route ahead. No previous climbing experience needed, but we assume regular helth and fitness level, but your knees and feet joints must be up to the job. Safety, comfort and delight are key words when we organise our activities.
From SEK 900
Try climbing. You will wear harness, helmet and special climbing shoes. We are used to helping kids, youth and adult to have a go at it. NB! This is not a course - this is an introduction to belayed climbing with top rope LOCATION: Trellebystrand Season: May-September Recommended for: 3-73 yrs Requirements: Fairly healthy knees and ancles What's included: Helmet, harness and climbing shoes. Activity leader. 2-3 ascents, depending on the length and level of difficulty on the routes climbed. What to bring: Duration: 2 hours total from fitting the gear until we do part Price: Adult: SEK 395 Family and children/youth price applies Optional: Extras: Havets Hus Sea Aquarium (entry) --- Would you like to make more ascents or at a time more convenient to you, we sugges a "Private climbing session". In that case, do regard 30 minutes per person as a guiding principle to make 2-3 ascents.
From SEK 400
Work together as a team and support one another as you leave your normal comfort zone. You will walk horizontally on a narrow shelf and climb vertically on a waterfront crag. Please clic the BOOK NOW button for dates and hours LOCATION: Trellebystrand, 4 km from central Lysekil Season: May-September Participants: 3-73 yrs, healthy knees and feet Requirements: God shoes with hard soles that stays tight on the foot during the scrambling part of the tour. Included: Guide, harness, helmet (shoes for top rope climbing part) What to bring: (water, packpack as you may need both hands to hold tight or assist your children/friends) Duration: 2 hours total Price: SEK 400 (family discount available9
From SEK 400