Activities, in Lysekil -
all year round, for all ages:

BOOKINGS ONLINE ONLY
Our guided tours are booked online. Departures (time and day of the week) may vary depending on the season. Would there be contradictory information at any time, it is the booking system that takes precedence.
For more info on each activity: click the BOOK NOW! button
To see day and time of departure on each activity: click the BOOK NOW! button
There will be no binding booking until the payment procesure is completed and basket has been checked out.
What to do if there is no bookable departure that suits you? A) make a booking request for min 6 persons, or B) book a private tour/activity.
On some tours there will be a minimum number of booked guests in order for the tour to run. In such a case the amount will be reserved from your card, but it will not be charged until the required number of guests have booked.
Would the activity be cancelled the amount charged will be reimbursed to the same account, and the guest will be notified at least 2 hours prior to departure.
Vissa hällristngar ses bäst när det är mörkt. Följ med på en spännande tur där du får lära dig mer om tiden då hällristningarna gjordes och bohusläningarnas handelskontakter uner bronsåldern.
Scrambling +++ (extra everything) Hiking and scrambling in nature typical to Bohuslän takes you to the summit with a spectacular veiw. After a lunch break you will get an introduction to top rope climbing. Please clic the BOOK NOW button for dates and hours LOCATION: 10-15 mns off central Lysekil Season: April-November What to bring: Hiking shoes with hard soles that stays tight on the foot during the scrambling part of the tour. Packpack (water, snack) Requirements: Regular health and fitness, no knee or feet issues. Children/youth 3-15 yrs are welcome June-Aug. What's included: Guide, climbing shoes, helmet, harness, rope etc. Outdoor lunch with beverage. Duration: 4 hours total Price: SEK 900 (adult, or group price) Family prices apply June-Aug Scrambling is "a walk up steep terrain involving the use of one's hands". It is an ambiguous term that lies somewhere between hiking, hillwalking and rock climbing. Please make sure to wear clothes and sturdy shoes suitable for terrain and a short walk among lush vegetation. Equipment for the Top rope climbing part of the activity is provided by the tour operator. Soft adventure This is an activity with a low to medium level of difficulty. We have planned the tour with families in mind. If you suffer from vertigo there is always an optional route ahead. No previous climbing experience needed, but we assume regular helth and fitness level, but your knees and feet joints must be up to the job. Safety, comfort and delight are key words when we organise our activities.
A winter season kayak tour with guide in the Lysekil archipelago that can be magical! Imagine a seal splashing behind the kayak, crystal clear waters and no noise! Enjoy the silence and marvel at the pristine landscape of the Swedish west coast. The 25 km long Gullmarsfjord may freeze in January and February, but the mouth of the fjord is free of ice 51 weeks a year. And going thru thin sheets of ice on a sunny day is a marvellous experience. This time of the year, activity is low in the archipelagos surrounding Lysekil, a small town on the west coast of Sweden. Time to unwind and recharge your batteries. A stable sea kayak and dry suit make you enjoy the moment even more! Fishermen and friends (FISKAREN) Some times a curious seal will follow our tracks - observing the sea kayaks and paddlers. Hence the name of the tour, Fishermen and friends. Humans, seals and the marine life. The guide will tell you more during the tour. And during a short break on some distant isle you will be served fish soup while stretching your legs. Please click BOOK NOW! to learn more and to see available departures LOCATION: LYSEKIL Season: October-April Recommended for: Everyone (Soft Adventure) Requirements: Regular health, able to swim 200 meters 13 yrs, min 160 cm tall What's included: Guide, seat in a shared K2 kayak, life jacket, spray deck, paddle, outdoor meal, drysuit (with optional use of gloves and hood) What to bring: Headgear, reinforcement garments and gloves for the break, sunglasses, (retainer for glasses), drink (to store on top of kayak) Duration: 4 hours total (2,5 hours seated in the kayak) Optional: Single seating in K1 Kayak
From SEK 1'300
OUTDOOR WEST SWEDEN
"enjoying the ride is more important than performing"
Our ambition is for everyone to be able to participate, no matter previous experience. You don't have to be neither super fit nor used to outdoor life.
We have been doing guided eco friendly sea kayak tours in Lysekil since 2005 because we want to share the best of Bohuslän with our guests. We arrange guided tours by kayak, bike and climbing activities for "ordinary people".
SOFT ADVENTURE * EVENT * FAMILY FUN * LYSEKIL GUIDE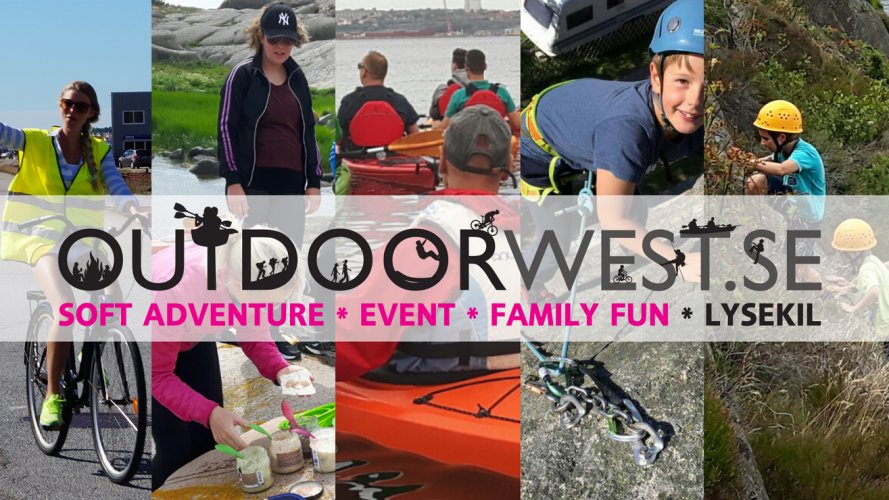 Lysekil in Bohuslän is perfect as a base for adventures at sea and on land. Outdoor West arranges comfortable, safe and challenging experiences at different levels in this area. Go kayaking, cycling, hiking, climbing or on a more traditional guided walk in the city. There is equipment to rent, too, if you want to go out on your own.