Activities, in Lysekil -
all year round, for all ages:

BOOKINGS ONLINE ONLY
Our guided tours are booked online. Departures (time and day of the week) may vary depending on the season. Would there be contradictory information at any time, it is the booking system that takes precedence.
For more info on each activity: click the BOOK NOW! button
To see day and time of departure on each activity: click the BOOK NOW! button
There will be no binding booking until the payment procesure is completed and basket has been checked out.
What to do if there is no bookable departure that suits you? A) make a booking request for min 6 persons, or B) book a private tour/activity.
On some tours there will be a minimum number of booked guests in order for the tour to run. In such a case the amount will be reserved from your card, but it will not be charged until the required number of guests have booked.
Would the activity be cancelled the amount charged will be reimbursed to the same account, and the guest will be notified at least 2 hours prior to departure.
OUTDOOR WEST SWEDEN
"enjoying the ride is more important than performing"
Our ambition is for everyone to be able to participate, no matter previous experience. You don't have to be neither super fit nor used to outdoor life.
We have been doing guided eco friendly sea kayak tours in Lysekil since 2005 because we want to share the best of Bohuslän with our guests. We arrange guided tours by kayak, bike and climbing activities for "ordinary people".
SOFT ADVENTURE * EVENT * FAMILY FUN * LYSEKIL GUIDE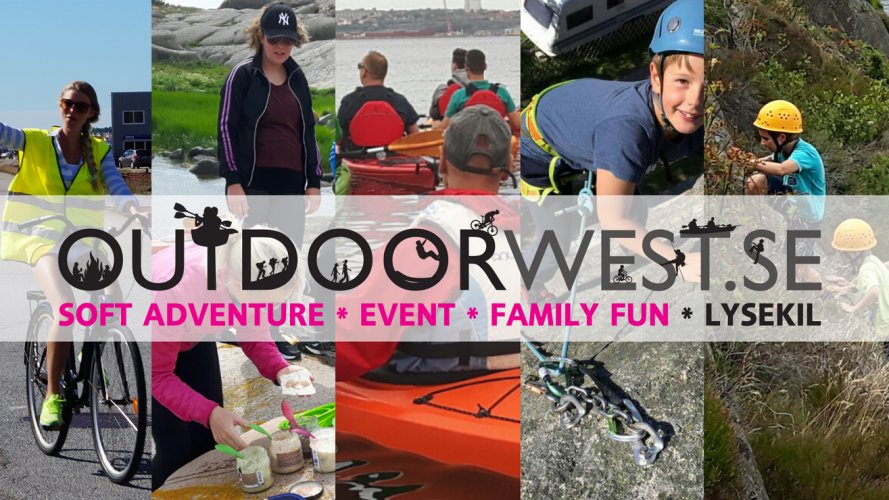 Lysekil in Bohuslän is perfect as a base for adventures at sea and on land. Outdoor West arranges comfortable, safe and challenging experiences at different levels in this area. Go kayaking, cycling, hiking, climbing or on a more traditional guided walk in the city. There is equipment to rent, too, if you want to go out on your own.